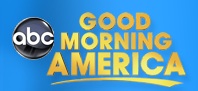 OK - So I am looking to start my own little Good Morning America Challenge and YOU are invited to participate.
Below is a question that I must answer for the next round of GMA's Advice Guru contest. But I know many people would have Guru-worthy answers and would love to make that point. So I invite you to do the same:
What do you think is the secret to living a good life? (Change it to a GREAT life for bonus points!)
Here is the criteria: Answer within either 100 words or less.
Submit by January 10, 2011 by any of these methods:
Respond as a comment below
Email to annie@practicehow.com
A yet-to-be-determined prize for best answer. (Besides the reward you will get for contemplating your answer.)
Hope you have fun with it. It's an interesting question! Share your friends and family. Let's get some great answers!
Can't wait to see your brilliance!
~ Annie