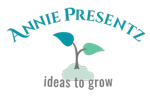 Let's face it 2020 was a rough year but if you are reading this, then you survived! The flip of the calendar to 2021 is an opportunity to reset, renew and reimagine the trajectory of your life.
Goals could be:
Health-wise: I want to eat better, exercise regularly or lose those pandemic isolation pounds.
Relational (to yourself or another): I want to stop being so hard on myself; be a better parent; connect to love;
Work-wise: I want to pursue my passion and change careers
A Bucket List Wish: I want to learn to play the drums; Travel Europe; Fix up my garden.

But how? Reaching your goals is part art, part science, part skill, and part determination. And they need to work together to rise above the resistance that gets in the way. Then playing to your strengths and strengthening the weak links in the plan. And then taking a step. Like joining this free workshop.

Join Positivity Consultant Annie Zirkel for this FREE workshop full of insights, practical tips and real tools to go beyond wishing life were different to making it happen.

Hope to see you there ~ Aloha, Annie