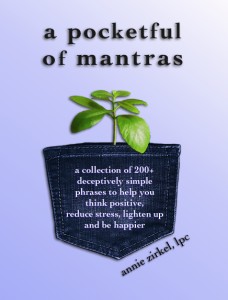 REVISED EDITION! A Pocketful of Mantras: a collection of 300+ deceptively simple phrases to help you think positive, reduce stress, lighten up and be happier by Annie Zirkel (2014)
Need a good self pep-talk? Want to: Talk nicer to your family? Nail a job interview? Survive a divorce? Stay positive through chemo? Find more patience, optimism or humor in your life? Well here is the book that can help.
40 pocket-sized pages ~ but don't let that fool you. This book is packed with wisdom from our times and from the ages to help you quickly find just the right message to say to yourself so you can positively direct conversations, your spirits, your day, your relationships and your life.
What kind of mantra do you need? Here are just some of the categories you will find in this seriously motivational guide:
Self-Worth & Compassion
Think Survival
Bounce Back
Stick with it
Be Patient
Find Peace and Balance
Embrace Imperfection
Find Acceptance
Add Joy, Optimism, Gratitude

Be Grateful
Deal with Reactivity
Try Forgiveness
Be Kind
Mantras for Couples & Parents
Lighten Up
Mantras with Attitude

and more…
From simple mantras like 'It's just a setback' or 'I'm still standing' to the classic 'This too shall pass' and the light-hearted 'Whatif Smatif' – this book has gathered over 300 of life's gems and packaged them in this, easy-to-use reference guide.
Get one for yourself and pick up a few more for your: • friends and family • employees and co-workers • book club • mindfulness or yoga class • support group • spirituality group • *Psychologists/Therapists/Positive Life Coaches: excellent tool for supporting your clients
Pocketful of Mantras 2nd Edition: a collection of 300+ deceptively simple phrases to help you think positive, reduce stress, lighten up and be happier by Annie Zirkel (2014)
Buy Book Now ~ And check out the multiple copy discounts - Share 2 Pack; Friends & Family 6 Pack; Group/Pro 12 Pack
Reviews
I LOVE THIS BOOK!!! It is a how-to for all the vagaries of life. It is fun, appealing, humorous, engaging and cool. I am POSITIVE this book will become a classic pocket-wonder of inspiration. It is the perfect gift for anyone who wants or needs a sprinkle of sunshine and a ray of hope. It is a shot of personalized awakening with a character strengths chaser! This tiny book packs a powerful punch of positivity. It's a life-changer gem with wonderful wit and… – Judy Krings, Ph.D., Professional Certified Coach, author "Photo Adventures in Cuba ~ Unlock Your Power of Positivity"
Before I heard of this book I thought mantras were like clichés. Was I ever wrong! Annie Zirkel shows the power of choosing a mantra intentionally and using it for a specific purpose. This is a great little book you'll want to revisit again and again! – Stephen Coxsey, MA, CMC, ACC Certified Personal and Small Business Coach
Got a mantra? No? Then take one—or more–from this wisdom-packed tome. Even if you already have some favorite phrases, Annie Zirkel offers you dozens more than can turn your day—or life—around. Don't leave home without one! – Gayle Scroggs, Ph.D., Professional Certified Coach and co-author of Women's Paths to Happiness
~~~
---
Check out Annie's other books
---